Genetic Analysis Training Dept of PHPT, The University of Nairobi & University of Tokyo 7th to 10th December, 2018
PCB VISIT TO CAVS IN OCTOBER 2018
SAFE FOOD SAFE DIARY (SFSD) PROJECT LEADERS VISIT TO NANDI COUNTY
PROF. S. KIAMA, (PRINCIPAL CAVS), DR. LAETITIA KANJA (PI) SFSD AND OTHER RESEARCHERS VISIT IN NANDI COUNTY ON 7TH JUNE, 2018
PROJECT HANDOVER FROM PROF. KANG'ETHE TO DR. KANJA
Read more...
University of Nairobi 8th Open Day
ODEL ORIENTATION TRAINING FOR MVPH STUDENTS
President Lays Foundation Stone on WMI
Read more...
VC, Acting Principal (CAVS), Prof. Kangethe and Finland Visitors
Read more...
OFFICIAL HANDOVER OF PRINCIPAL TO ACTING PRINCIPAL CAVS
Read more...
53rd University of Nairobi Graduation
FAO FUNDED CONSULTANCY ON TRAINING OF MEAT INSPECTORS IN SOMALILAND AND PUNTLAND (November 2012 - March 2013)
Submitted by peter.kyalo on Tue, 2013-03-12 10:31
Lead Researcher profile link :
The University of Nairobi signed a consultancy agreement with FAO to provide training of personnel working in the meat subsector at certificate level on meat hygiene and quality assurance in both Somaliland and Puntland. The objective of the consultancy was to develop capacity for the Ministries of Livestock in both Somaliland and Puntland to implement meat quality assurance through training of staff to certificate level. The training was undertaken by staff from the Faculty of Veterinary Medicine through the Department of Public Health, Pharmacology and Toxicology between November 2012 and March 2013. Forty four staff (24 in Somaliland and 20 in Puntland) undertook the training that will lead to award of the Certificate in Meat Hygiene and Quality Assurance of the University of Nairobi.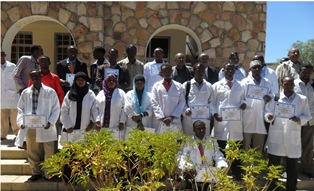 Participants display a certificate of participation presented to them by the Minister of Livestock
UoN lecturers with the six trainees from Mogadishu, Somalia at the end of the training period in the Department of Public Health, Pharmacology and Toxicology